Never had I imagined working at a Fortune 500 Company in the United States. Born and raised in Malaysia, I came to the States ten years ago to complete my tertiary education. Upon completing my undergraduate degree in business and economics, I made a change to jump start a career in the cyber security field due to a personal encounter with ransomware. I knew that having knowledge in the field is critical. So, I attended a graduate school to learn the fundamentals. I was always worried about being able to land a job after graduate school since I had little technical or hands-on experiences. But I was lucky that the unique Hershey culture of embracing learning and the commitment to hire employees with diverse backgrounds and experiences opened the door for me. I have been with the Information Security team since.
Even though I now live in the United States, I always remember my culture and tradition. Lunar New Year is the most important celebration in my family. Also known as the Spring Festival, this celebration lasts for fifteen days. It begins on the first new moon of the lunar calendar and ends on the first full moon of the lunar calendar. During this time, houses and shopping malls are decorated with red lanterns, spring couplets (red banners with little lines of poetry) and paper cuttings with zodiac signs of the year. The color red is very important as it is associated with good luck and is believed to ward off bad luck. It is also critical to do spring cleaning prior to Lunar New Year's Day as starting the new year with a clean house symbolizes a fresh new start and is thought to be "good riddance" of any bad fortune.
This celebration means a lot to me because it brings my family, relatives and friends together. During Lunar New Year Eve, it is a tradition to have a reunion dinner with the family. And throughout the fifteen days of celebration, visiting friends and relatives is also another must. My favorite part of the celebration is the food. Two main dishes that my family always has are the steamed whole fish and Yee-Sang (Prosperity Toss Salad). One of the interesting facts about Lunar New Year is that each dish is rooted in symbolism. In Chinese, fish is pronounced like "surplus." So, it symbolizes an abundance of good omens. The Prosperity Toss Salad, on the other hand, is typically served as an appetizer. It usually consists of strips of raw fish, mixed shredded vegetables with a variety of sauces and condiments. This is a very interesting dish as everyone is expected to stand up and toss the ingredients into the air with chopsticks while saying various new year greetings. One of my fondest memories is receiving red envelopes (hong bao) filled with money. It is a tradition for married couples to give red envelopes to children and elders as a gift. Another activity that I've always enjoyed during Lunar New Year is watching lion dance performances in the shopping malls.
Being part of the Asian Business Resource Group (ABRG) provides me an avenue to share my cultural experiences and meet people with similar cultural backgrounds. As part of ABRG's mission to educate and evolve the Hershey Culture by impacting business, last year in 2020, we collaborated with HERSHEY'S CHOCOLATE WORLD to create a Lunar New Year celebration experience at the Hershey location. Custom Hershey Lunar New Year boxed candy and Lunar New Year themed menu was co-created. Cultural awareness was built within the community through the traditional dance performances as well as an activity to translate the names of visitors to Chinese characters.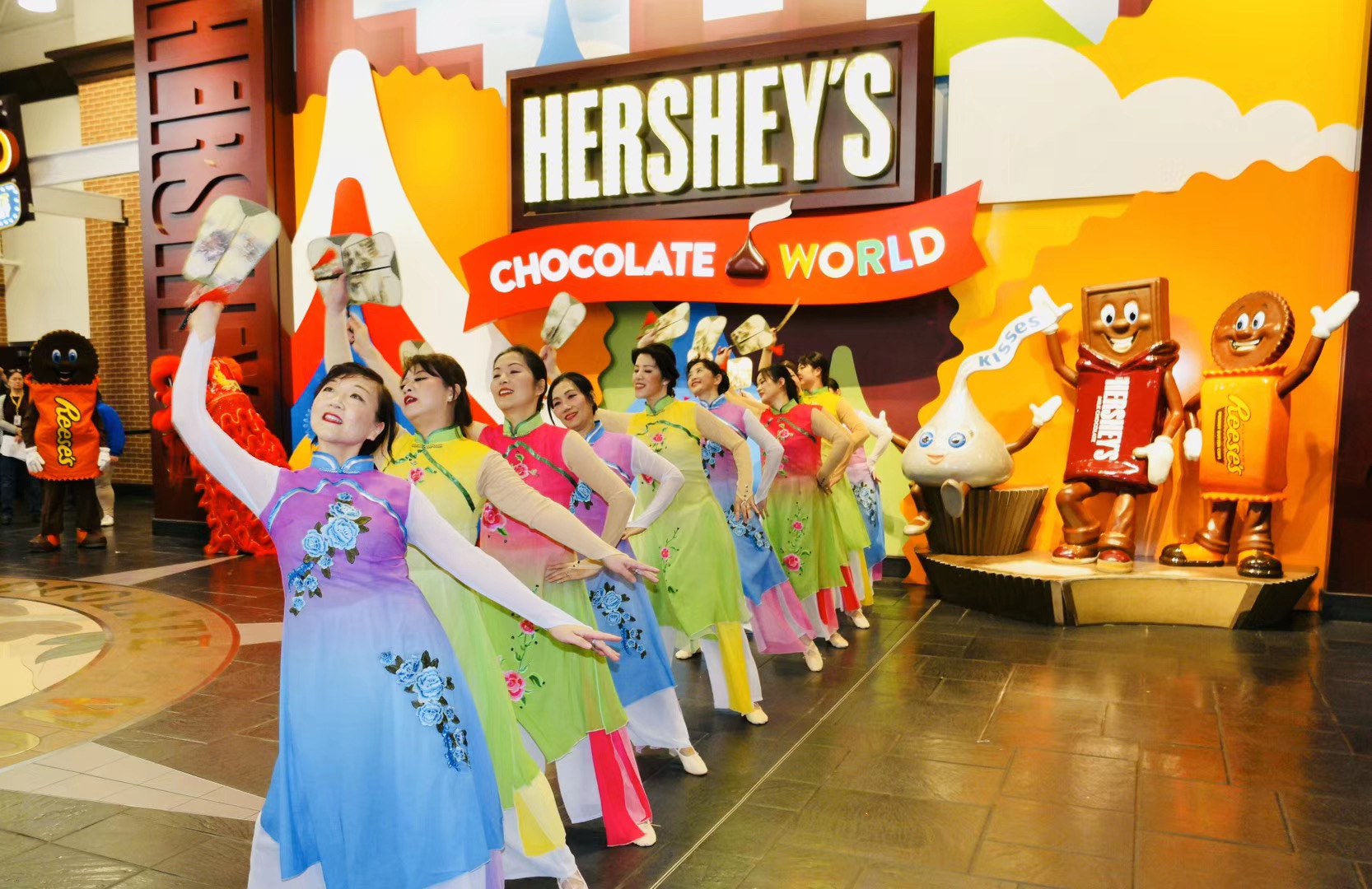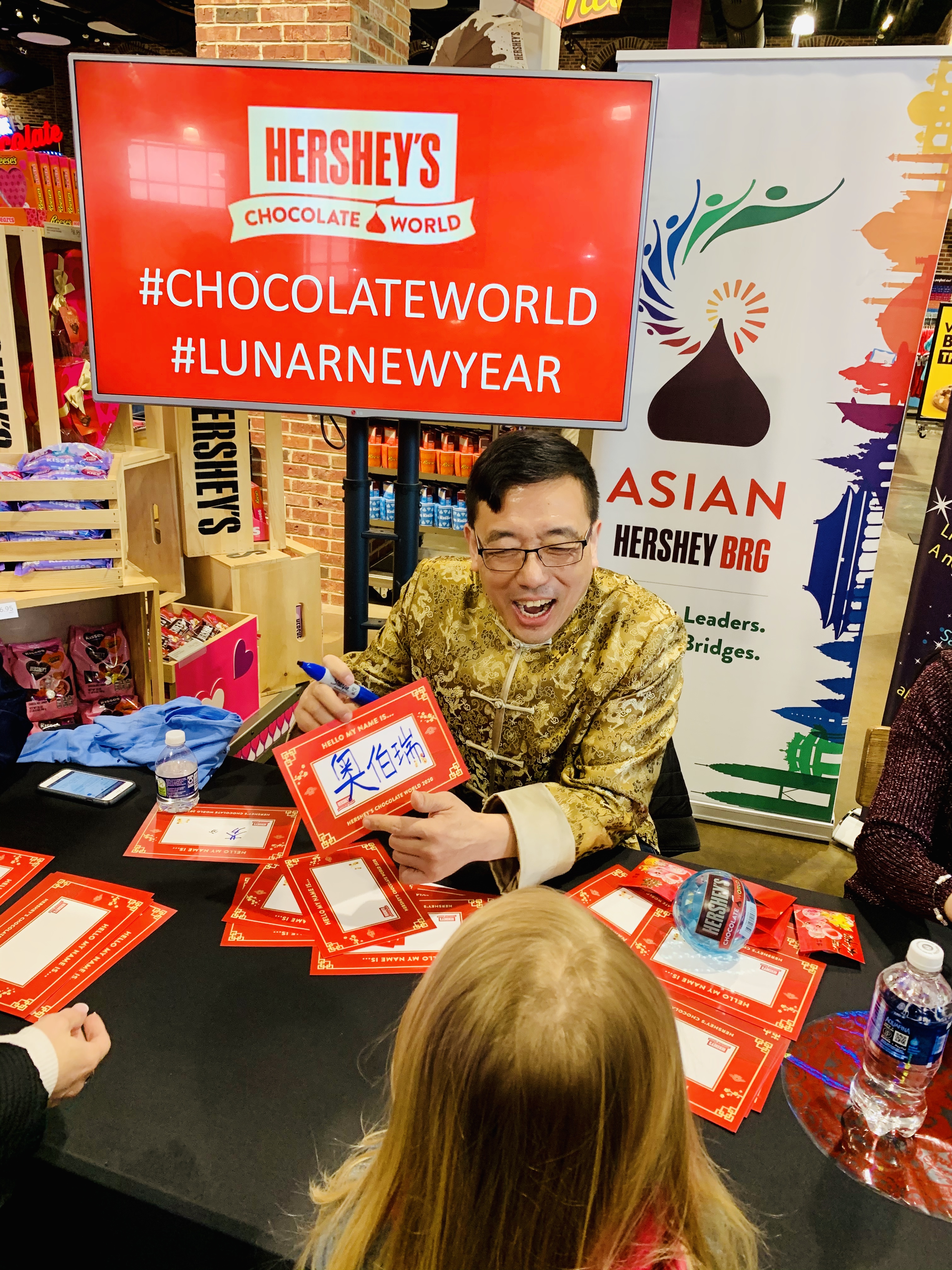 Celebrating Lunar New Year traditions with those who may not be familiar with the holiday is important to me as I'm able to share parts of my experience with friends, colleagues and consumers. Our brands and beloved products have a global reach. It's important that Hershey employees—the lifeblood of the company—are as diverse as our consumer base. This allows us to combine our unique perspectives and diverse experiences to continue creating great-tasting products that our consumers will love.
To explore career opportunities at Hershey, see our current openings.