Last week, I had the pleasure of joining the Hershey Hazleton plant team, colleagues across marketing and supply chain as well as legislators to break ground on a significant expansion to Hershey's U.S. manufacturing network. A little snow couldn't stop the team at Hazleton from celebrating in a way that beautifully showcased the best of Hershey: our brands, our people and our purpose.
Since joining the company, I have been consistently impressed by the passion our employees have for our brands and the people who love them. Donning the famous Kit Kat red, Hershey's Hazleton employees showed their pride in making one of Hershey's best-loved brands.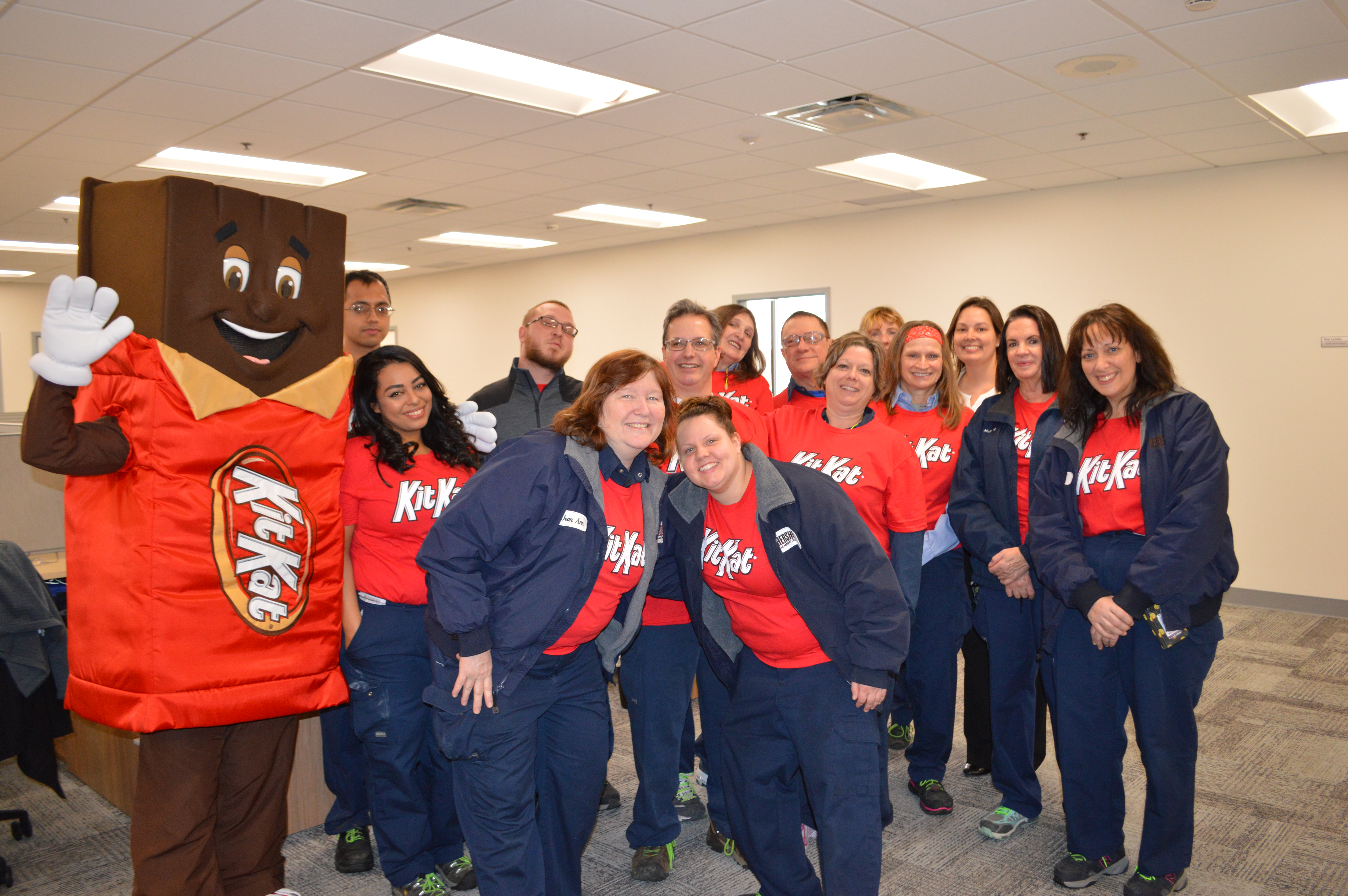 Members of the Hershey Hazleton team pose inside the plant office with the Kit Kat character!
Kit Kat's iconic 'Gimme A Break jingle has long been stitched into the cultural fabric of America. Under the exceptional stewardship of our brand marketing team, Kit Kat has grown 8% growth over the past six years. In fact, it's poised to become Hershey's next $1 billion brand!
We couldn't be prouder of the love people have for Kit Kat. As a result of the brand's steady growth, we now need additional manufacturing capacity to ensure Kit Kat is readily available to our valued consumers and customers for many years to come.
"As the leader of Hershey's U.S. business, I'm proud to say that our $60M investment in Kit Kat lines at our Hazleton plant is a vote of confidence in Hershey's future, our people and our growth."
Our core brands—including Kit Kat, Hershey's, Reese's and Ice Breakers—are some of the strongest brands in candy. The full Hershey team—including marketing, sales, supply chain and more—has embraced its unique role in driving brand growth. Only when we have collaboration across Hershey, can we fully realize our potential and deliver the best possible service to retailers and consumers.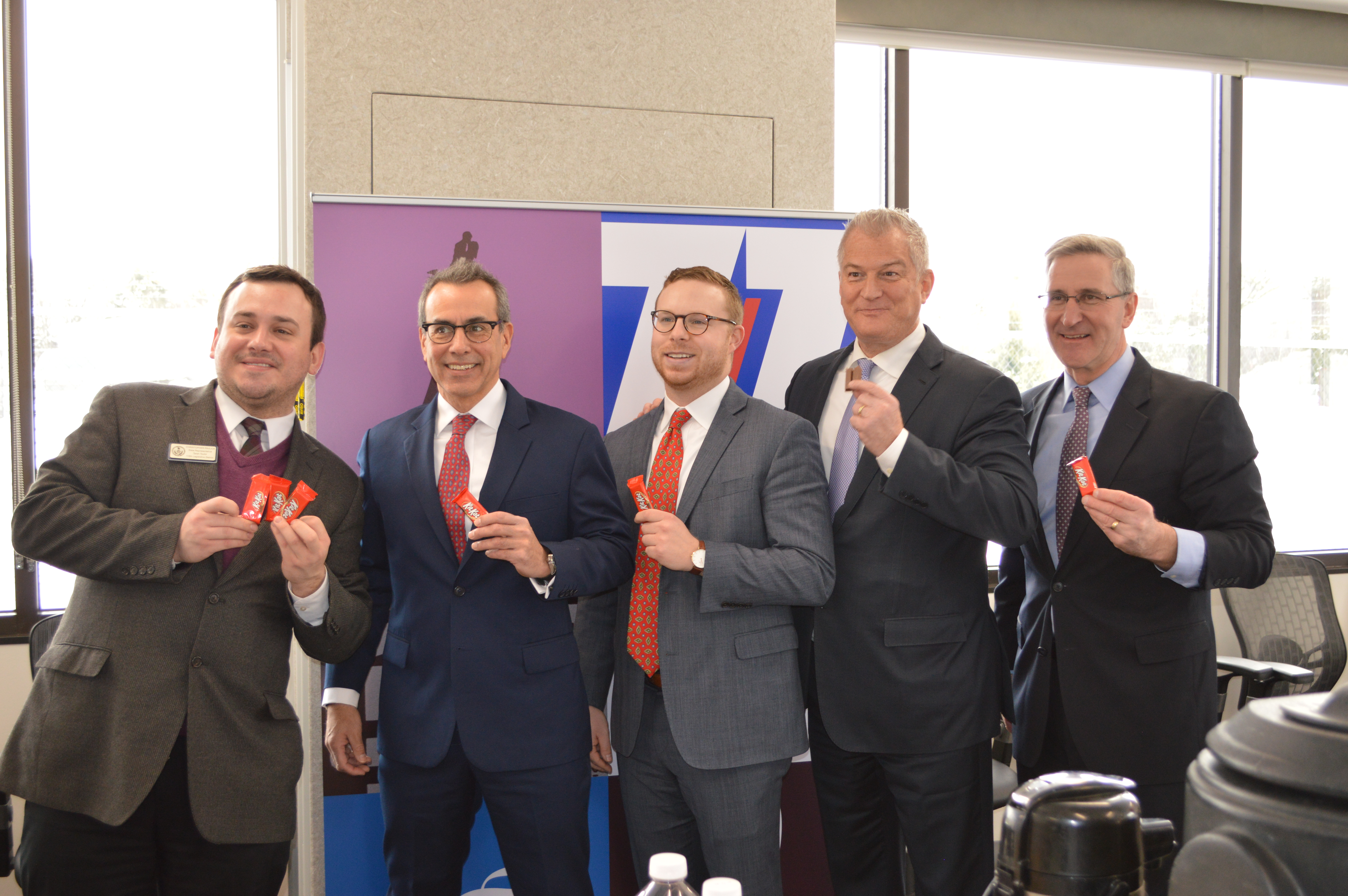 Local and state politicians and their representatives joined Rick Camacho, Chief Supply Chain Officer and myself for the celebration.
One of the things the Hershey team is most proud of is our marketplace reputation for high-quality, great-tasting snacks. That starts on our manufacturing floor. As our founder Milton Hershey famously said: Quality is the best form of advertising.
"Our reputation in the marketplace is because of the consistency our manufacturing team delivers day in and day out."
I'm proud to say that this significant capital investment will create over 100 good-paying manufacturing jobs. We are actively looking to hire 111 people, which is a 27% increase in positions at the plant. All of the new jobs are now posted on our careers site for qualified applicants to apply. 
We're proud that approximately 85% of Hershey products sold in America are produced in the U.S. by skilled American workers. Those same workers also make products that are enjoyed by consumers around the world. 
With the new addition, Hershey is increasing the plant size by 6% and the production volume by 27%. That's a lot of Kit Kats! The entire Hershey family is thrilled to be driving growth for each other, our retail partners and our fans.